Accommodations
An Urivaled Guest Experience
Built by craftsmen from Java and Rote with locally quarried stone, exposed regional hardwoods and traditional Rotenese along roofs the design and architecture of all facilities match the traditional feel of the region.
Enjoy Private and Spacious Villas
We offer 4 large air-conditioned duplex bungalows, each featuring private and spacious outdoor bathrooms, porches and views of the pool, ocean and surf breaking on the outer reef.
The villas are duplex units; meaning each unit houses two rooms (each with private bathroom) that can be joined by interior door to accommodate families or groups of friends traveling together, or kept locked for privacy. Rooms can be set up as king or twin and by specific request children or triple occupancy may be accommodated.
Each room is air-conditioned and has two large ceiling fans as well as natural land or sea breezes flowing through the louvered windows. Each unit is furnished with bed-side tables, lamps, large free standing closet, seating and luggage stand.
Private Bathrooms
Each room with private bathroom has been designed utilizing local stone and hardwood to provide fully modern/western conveniences. Fresh water is an important resource in this region of Indonesia so water pressure is provided by gravity generated from raised water tanks exposed to the daily sun. Showers and sinks run with island temperature water. Fresh towels are supplied to each room on an "as requested" basis, or every 3 days; whichever comes first.
Facilities & Amenities
In addition to the 8 large well-appointed guest rooms the resort offers a host of other facilities, amenities and equipment to boost the guest experience.
Restaurant & Bar
Restaurant seating may change depending on the makeup of each group from smaller 2-4 person tables, larger group tables or full size family dining for large groups and weddings. Dining chairs have arm supports and cushions so you are comfortable to sit as long as you wish.
The long bar is often the focal point given the spectacular views of the surf and sunsets. With 16+ seats across there is plenty of room for everybody. This is also a good place to get to know some of the local community who often come over for a cocktail or smoothie around sunset. Bar stock includes icy cold beer, imported wine and a full supply of spirits served straight up or in specialty cocktails.
Just to the side and beachfront of the bar and dining area is a small lounge. Sofas with thick cushions are comfortable day or night or enjoy the sunset or stars from one of the round tables on the sky-view terrace.
Lontar Spa
Named after a local palm that produces the rich syrup from which locals make both sugar and alcohol; the Lontar Spa provides the treatments necessary to rejuvenate mind and body. Only the finest quality oils and products are used in each type of treatment. Hygiene is top priority with fresh linens for every massage and sterilized tools for each manicure/pedicure.
Lontar treatment staff have been flown to Bali for training where after they worked in some of the best spa facilities on island.
60 Min Restore Full Body Massage – Rp200,000
30 Min Rejouvenate Exfoliation – Rp130,000
60 Min Signature Facial w Biokos product – Rp170,000
90 Min Jetlag Remedy – Rp260,000
60 Min Classic Manicure/Pedicure with exfoliation – Rp140,000
Games Bungalow
Located in the back portion of the property adjacent to the sand volleyball court; the games room is often the venue for ruckus activity and houses our full size pool table, tournament ping-pong table and professional quality dart board. Beverages will be delivered to participants and spectators from the main bar. Over the years our staff have become quite good at volleyball and welcome the opportunity to play with or against guests.
The Equipment House
The office and equipment bungalow is positioned just off the main entrance and circular driveway. Guests are welcome to visit the office at any time should they need assistance arranging activities or communication. Guests are checked in upon arrival and out upon departure. The long deck provides a nice shaded area with seating where guests congregate before loading into vehicles for excursions or departure.
Meals
Meal time at Nemberala Beach Resort, which seems to be just about all the time, is a highlight and something in which resort management and kitchen staff takes great pride. Over the years menus have been developed, re-developed and re-imagined to utilize the best of local and imported product to serve up a variety of Indonesian and Western dishes.
All meals are included in the nightly package rates for both Surfers and Non Surfers. Nobody has ever complained about going hungry or losing weight while staying at Nemberala Beach Resort.
* We are happy to take special requests for people with special dietary requirements including vegetarians, vegans, lactose intolerant, pescaterians, no red meat, no vegetables or allergies please let us know in advance and we do our best to accommodate.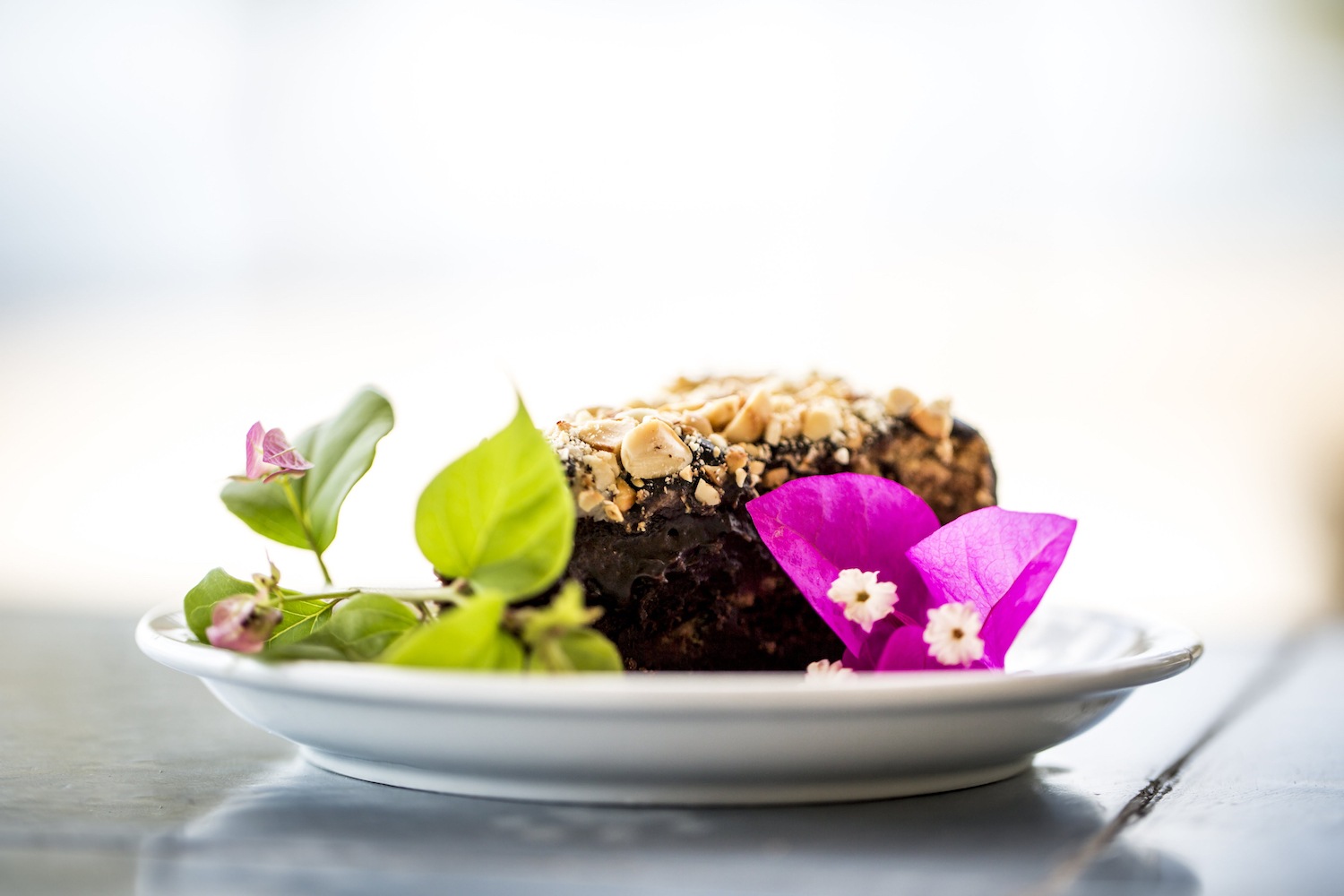 Morning
From first light to 8:00am — Early Breakfast
Coffee is ready just after first light and is served along heavy "continental" fair: fruit, toast, jam, peanut butter, fruit salad, yogurt, granola/muesli and juice.
8:00 am to 10:30 — Late Breakfast
Late breakfast does not generally wrap up until after all those who headed out for a morning surf return. Late breakfast includes everything in the early breakfast selection in addition to banana pancakes, eggs or omelet made to order, bacon, sausage or Indonesian noodle breakfast with egg on top or whatever else you may want to throw in the mix. It is made to order, so be creative. For those who like to eat light, or in addition to above, try a fruit smoothie.
Afternoon
1:00 pm to 2:30 pm — Lunch
Hope you squeezed in an after breakfast activity to work up an appetite for lunch. Typically served buffet style lunch may include any selection of salad, burgers, rice dishes, sandwiches, chicken, fish or pasta. Fruit smoothies are available all day.
Sunset / Evening Appetizers
For those that make it back to the bar area from the surf or afternoon activity appetizers are served. This is a wonderful time to enjoy a cold beer, glass of wine or cocktail. Appetizer items include individual thin crust fired pizza, dumplings, chicken wings, calamari and more. The kitchen can get creative with appetizers
Evening
Half hour after dark – 9:00pm
Dinner times change a bit over the course of the year based on sunset. People often surf until dark so we allow time for everybody to get back and shower off. Each dinner is started with fresh made soup and salad followed by a rotating selection of "themed" dishes. Steak night, Mexican night, Indonesian night, seafood night etc. There will generally be a selection available for vegitarians.
After 9:00 pm — Dessert:
Hope you left a bit of room as this is definitely a highlight. Cakes and pastries are baked daily and include lemon tart, chocolate hazelnut tart, profiteroles, layer cake, zebra cake and/or just plain ol ice cream.
Ready to Start Your Trip?