Activities
What else is there to do besides surfing?
You can pretty much do everything except shopping at the mall (local village shopping is an option). Or if you choose, you can do nothing at all!
Mountain Biking
Rote has many miles of dirt roads and trails with little to no traffic. Options range from hard packed mostly flat coastal roads extending the length of the island to cross island hilly "fire road" type riding up to a lake in the center of the island to full on single track technical riding. For the more advanced excursions and scheduled rides we send along a guide, but most prefer to head out and explore.
We currently have 7 bikes available. Be sure to bring along plenty of water in case you go further than intended.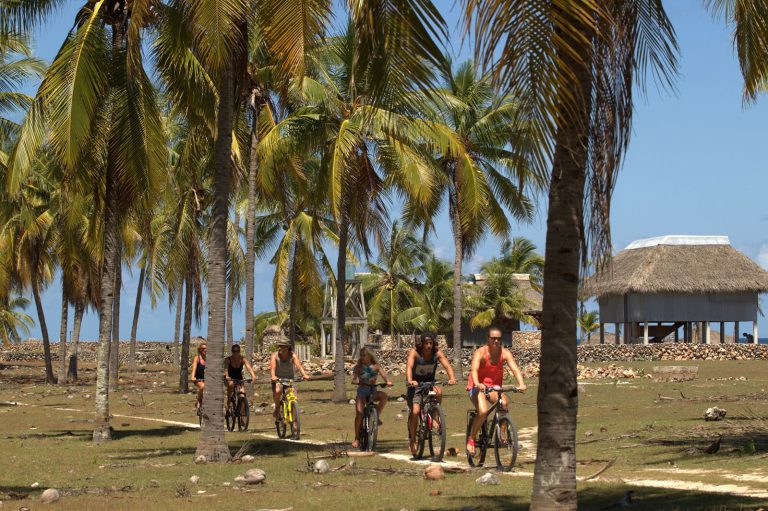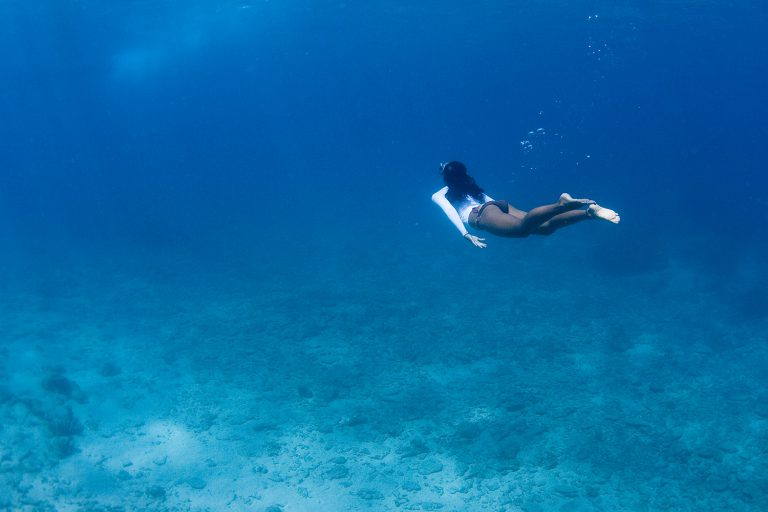 Snorkeling
When visiting this remote area of the world it is important to experience as many aspects of the pristine oceanic beauty as possible, making a couple snorkeling adventures a must. Due to the large tidal movement and surf activity in front of the resort the snorkeling in the immediate area is not great. However, there are some lagoon areas a short drive or boat ride from the property that offer spectacular views into this underwater wonderland.
You will see colorful corals, reef fish, larger pelagics, beautiful sea shells still alive with their occupants as well as an occasional octopus or lobster.
When snorkeling from the boat you will be able to drift and swim with the current to cover more area effortlessly; all the while under the watchful eye of your boat driver/guide. We suggest you do not touch the corals or pick up shells with which you are not familiar.
The resort is equipped with various sizes and quantities of masks, snorkels and fins and makes an ongoing effort to be sure all is in good working order. However for those who are enthusiasts, experienced, or just feel they may be spending a lot of time in and under the water we suggest you may like to bring along your own equipment.
For those into spear fishing there are some particularly good areas for large Dog Tooth tuna; and for those wanting to SCUBA we can outsource dives through a local operator. There is no decompression chamber on Rote or Timor.
Fishing
The fishing in this area of Indonesia and the Timor Sea can be some of the best in the world. Due to very little commercial fishing the ocean is abundant with numerous species.
At this time fishing is a side activity from Nemberala Beach Resort. Although our larger center console skiffs are well suited for fishing, we cannot guarantee the availability of these boats as their main purpose is the efficient operation of the surf program. Ask about specific fishing charters if interested. When not in use for surfing however you can be certain to enjoy some phenomenal fishing.
Our most common approach is light tackle trolling with Rapala style lures, skirts and feathers. Some people have had particularly good success throwing surface irons on boils or off the troll-strike, and most recently we have discovered how good the jig fishing can be in 60-200 feet of water. The most common species of fish encountered are Spanish Mackerel, Trevalli, Wahoo, Dog Tooth Tuna, Yellow fin Tuna, Grouper, Sea Perch, Sailfish and Marlin.
All our fishing grounds are within 45 minutes of the resort. Although plenty of Spanish mackerel and some small tuna can be landed just outside the reef in front of the resort, our hot spots such as Dog Tooth Alley, 8 mile reef and The Gathering Spot are specific hot spots that are a bit further afield.
Thus far we have not really noticed any change in fishing depending on the seasons. The fish seem to be around all the time. However, we have been more successful Sept to November and February to May as these moths typically see very nice surface conditions allowing us to work the "Hot Spots" more comfortably in the boats we have available.
And for Spear Fishermen and Blue Water Hunters, we are happy to drop you on the spots as well. We have had a few trips shoot 80-100lb Dog Tooth in less than 30' of water!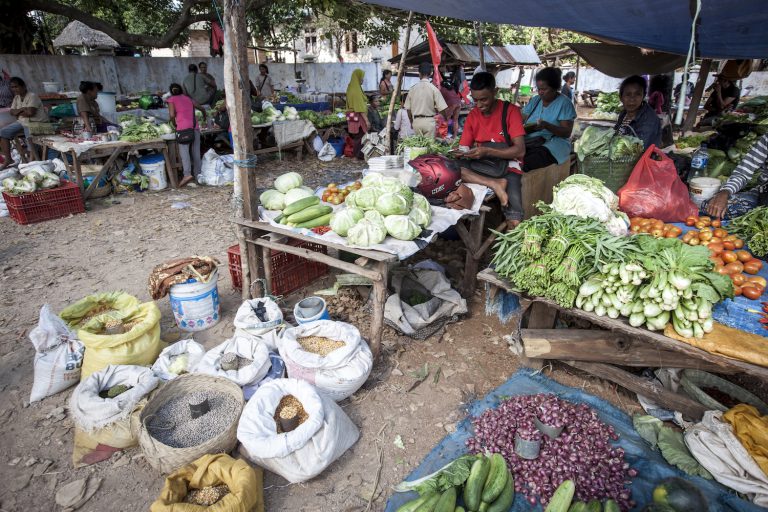 Village Trips
The full Nemberala experience is not complete without getting to know the local people and area. The resort is located on the edge of Nemberala Village making both escorted tours and non-escorted visits easy and convenient. Your first time out you may want to have one of our staff take you out to familiarize you with the area, then go unescorted on future trips for a more personal experience.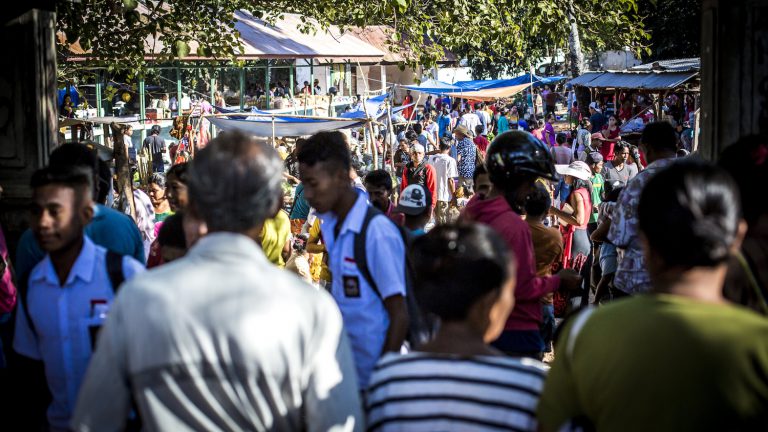 Nemberala village is the largest village in the area, there are other more rural villages accessible by mountain bike, motorbike or boat to the neighboring island of N'doa. The villagers on N'doa have been making jewelry for years by melting down the old Dutch coins that can still be found in the area today. These trips are guided and may incur a nominal additional fee for transportation.
Island Hopping
There are three additional islands in close proximity to Rote: Donna, Do'a and N'Doa. Each of these islands is unique in some manner, so a visit to all or one of them during your stay is an enjoyable excursion.
Donna
Donna is the second largest of the three islands and is largely limestone. Each side of the island has pockets of beach tucked in coves bordered by rocky outcroppings. Local legend has it that Donna is haunted by villagers who were slain by feuding Rotanese and tossed into the shallow lake in the center of the island; aptly named "Blood Lake". We believe this must be true as Donna is one of only a few small islands in the region that has clean easily acceptable well water, wild dear and horses yet remains uninhabited.
Do'o
Do'o is the smallest of the three islands and comprised mostly of clean white sand and pandanis trees. Do'o probably offers the best snorkeling off its pristine beaches. Although largely uninhabited, nomadic fishermen will occasionally use the island as a base to fish the channel separating Do'o from N'Dao. An afternoon on Do'o will give you the feeling of being on your own deserted island, be sure to bring food and water.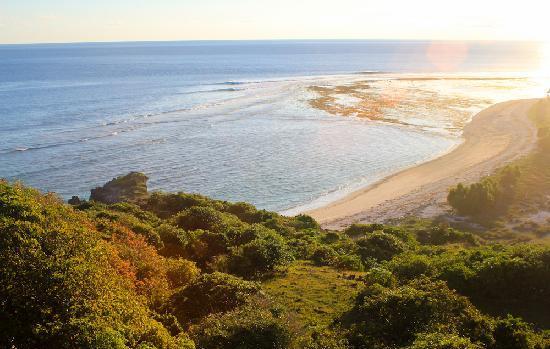 N'Dao
N'Dao is the largest of the three islands. Neither staff nor guests of Nemberala Beach Resort have spent much time hiking around the island or to the top of the small mountain in the center, but the island does host one semi large village (for the area). Villages of N'Dao welcome foreigners as they are a rare site. If you are lucky, you may be able to visit one of the artisans weaving the local tapestries (Ekat), or jewelers who utilize salvaged Dutch coins which are melted and recast as rings or bracelets. Guests are welcome to take pictures in the village but it is courtesy to first ask permission.
Onsite Activities
There is always plenty to do on-site. Book your massage appointments early for after yoga as times do fill up. Don't be surprised when full ping pong or pool competitions take place; and don't be afraid participate in evening volleyball with the staff.
Massage
Please see the section on our Lontar Spa – You can't beat a 90 minute treatment for $25. Demand for spa treatments is high, especially when we have female guests, so do not be shy about booking multiple treatments over the course of your stay immediately upon arrival.
Games Bungalow
Located in the back portion of the property adjacent to the sand volleyball court; the games room is often the venue for ruckus activity and houses our full size pool table, tournament Ping-Pong table and professional quality dart board. Beverages will be delivered to participants and spectators from the main bar.
Volleyball
A full size sand volleyball court with tournament net sits center stage adjacent to the games bungalow. The court seems to get quite a lot of use in the evenings by guests, and the occasional staff vs. guest match.
Horeshoes & Bocce Ball
Given the amount of dry white sand utilized to landscape the property Bocce Ball tournaments also seem to be a common activity. This low pressure non strenuous bowling type game goes well with cold beer in hand.
Yoga
Although we have a full supply of yoga equipment (mats, blocks, blankets) and plenty of space to practice yoga daily, we do not have a yoga instructor on staff at all times. If you would like to practice yoga the equipment is available free of charge. If you feel you would like to practice yoga daily, or on a preset schedule, please let us know in advance and this can be organized for an additional $10 per session.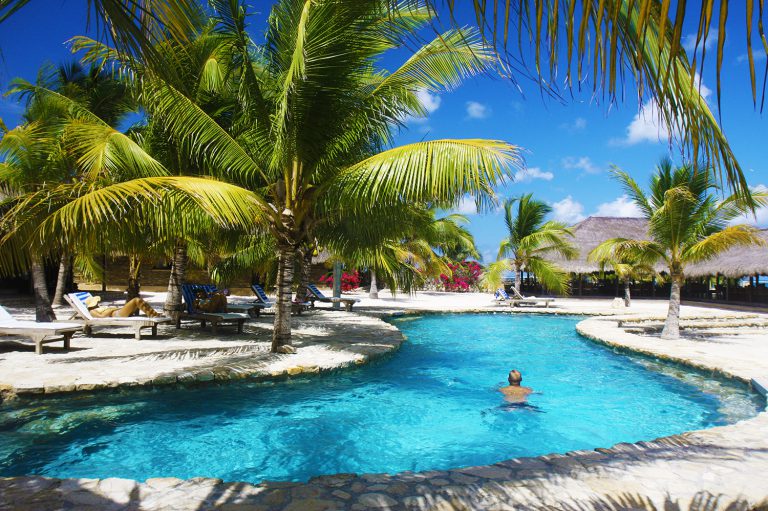 Lounging
General lounging is one of the most common vacation activities. The resort has a few options that are particularly good: By the pool with a book, in a hammock under a shade tree, on the large cushioned chairs and sofa adjacent to the bar, or simply at the bar with your favorite cocktail overlooking the beach and reef beyond.
Ready to Start Your Trip?