Location
The travel is what makes the experience and the remoteness so special!
Rote is the Southernmost inhabited island of Indonesia. Although hot and tropical, it is much more arid than the islands to the north such as Bali, Java and Sumatra. This dryer climate means very few bugs and the ability to cruise around and enjoy the area without being drenched in perspiration.
About the Island
Rote Island (Indonesian: Pulau Rote, also spelled Roti) is an island of Indonesia, part of the East Nusa Tenggara province of the Lesser Sunda Islands. It has an area of 1,200 km2 (463 sq mi). It lies 500 km (311 mi) northeast of the Australian coast and 170 km (106 mi) northeast of the Ashmore and Cartier Islands. The island is situated to the southwest of the larger island of Timor. To the north is the Savu Sea, and to the south is the Timor Sea. To the west is Savu and Sumba.
The uninhabited Ndana island, just south of Rote, with an area of 14 km2 (5 sq mi), is the southernmost island of Indonesia. Along with some other nearby small islands, such as Ndao island, it forms the kabupaten (regency) of Rote Ndao Regency, which in 2010 decennial census recorded a population of 119,711.
How to Get to Nemberala
Travel to Rote begins in Bali. Most passengers will need to overnight in Bali given the various flight schedules, but many choose to add an additional night or two to experience the wonderful culture and vibrant atmosphere of Bali.
Most common travel Schedule from Bali
Bali —› Kupang —› Rote
From Bali is a short 75 minute flight to Kupang, W. Timor, the capital of Indonesia's East Nusa Tenggara province.
| From | Flight | Departure Time | To | Time of Arrival |
| --- | --- | --- | --- | --- |
| Bali | Garuda 438 | 11:00 am | Kupang, W. Timor | 12:50 pm |
| Kupang | Wings Air1935 | 3:10 pm | Ba'a, Rote | 3:40 pm |
Rote —› Kupang —› Bali
From Kupang is a flight or ferry to Rote Island.
| From | Flight | Departure Time | To | Time of Arrival |
| --- | --- | --- | --- | --- |
| Ba'a, Rote | Wings Air Flt | 7:30 am | Kupang, W. Timor | 8:00 pm |
| Kupang, W. Timor | Garuda 439 | 1:35 pm | Bali 3:20 pm | 8:15 pm |
Note: Due to occasional changes in flight times between Bali and Timor as well as W.Timor and Rote it is often necessary to use the fast ferry between Islands. The fast ferry takes 2 hours and operates daily on the following schedule. Schedules and options subject to change, but we have your logistics covered.
Ferry Option
| From | Departure Time | To | Time of Arrival |
| --- | --- | --- | --- |
| Kupang, W. Timor | 8:00 am | Ba'a, Rote | 10:00 am |
| Ba'a, Rote | 11:00 am | Kupang, W. Timor | 1:00 pm |
There are two ferries which depart opposite sides each morning, crossing mid channel. Many days there is an afternoon ferry departing each side at 2:00pm for the 2 hour crossing, but this afternoon ferry has proven less reliable.
Upon arrival on Rote you will be met and provided the 45 minute transfer to Nemberala Beach Resort. Your travel consultant will have the most up to date details when making your travel plans.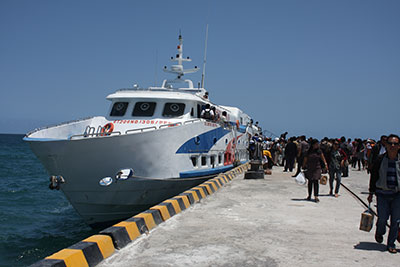 Count on us for assistance
No matter if traveling by flight or ferry
you will be met, assisted and transferred every step along the way
by Nemberala Beach Resort staff in Kupang and upon arrival in Rote.
Our ground staff will assist in transferring guests between flights or to hotels and onto the ferry to make certain you have an enjoyable and worry free experience.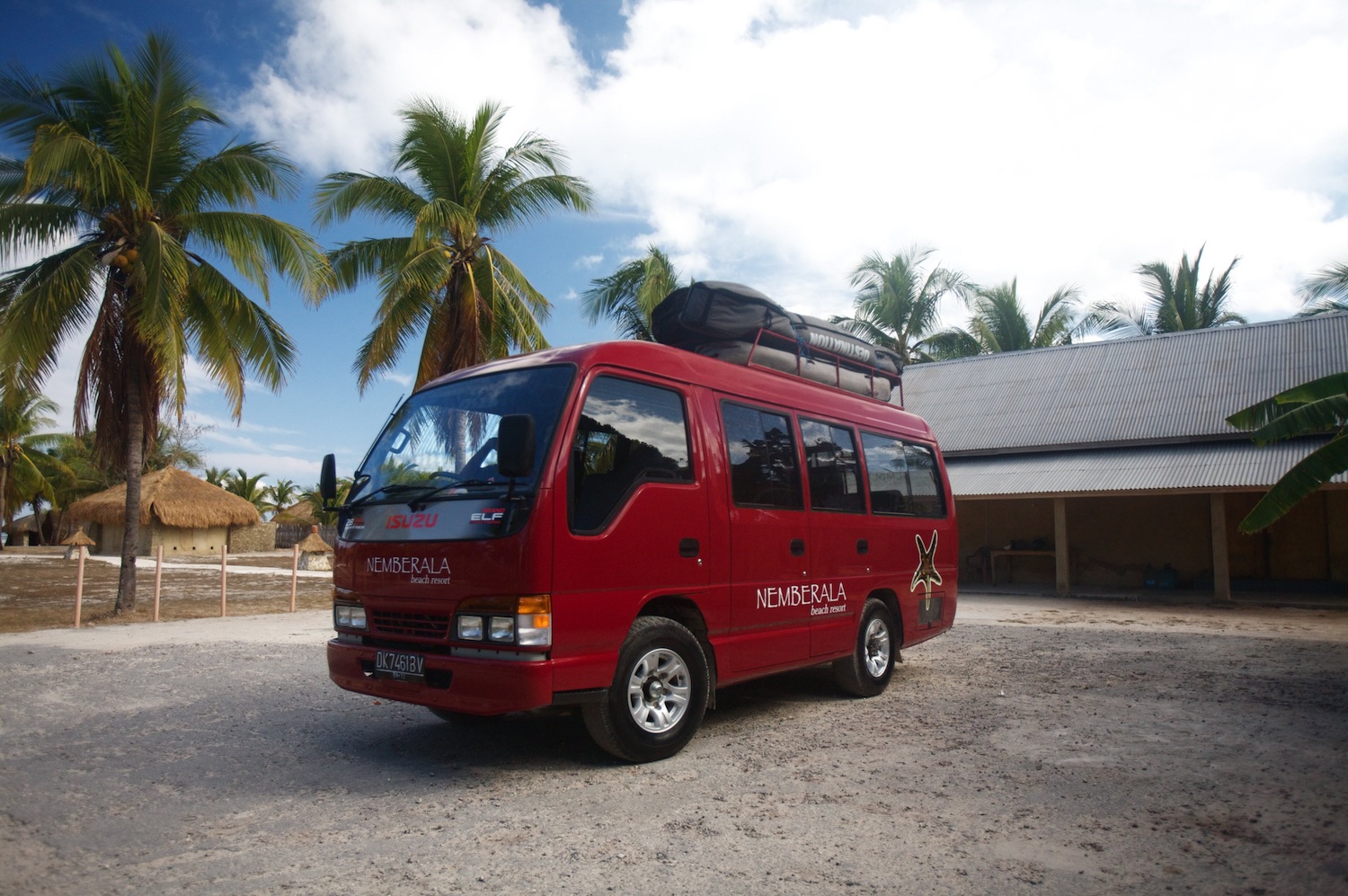 Booking Agents
Please be aware that our accredited booking agents around the world are well familiar with all travel options and can confirm the most convenient schedules for travel to Nemberala Beach Resort from Bali or your international departure gateway. International agents will also include meet/greet ground handling services in Bali and Kupang along with any transfers desired between airports, hotels, ferry terminals etc.
Ready to Start Your Trip?